The Ang Dating Daan program is in a festive mood right now not just because of its 35th Anniversary celebration but because of its recent feat to seize the Guinness World Record for Largest Gospel Choir.
UNTV CEO Daniel Razon, who is also the Vice Presiding Minister of the Members of the Church of God International (MCGI), received the plaque for the Guinness achievement from the official adjudicator from Guinness UK, Ms. Fortuna Burke Melhem and raised it to the cheering crowd of male and female singers in the Araneta Coliseum last October 12, 2015.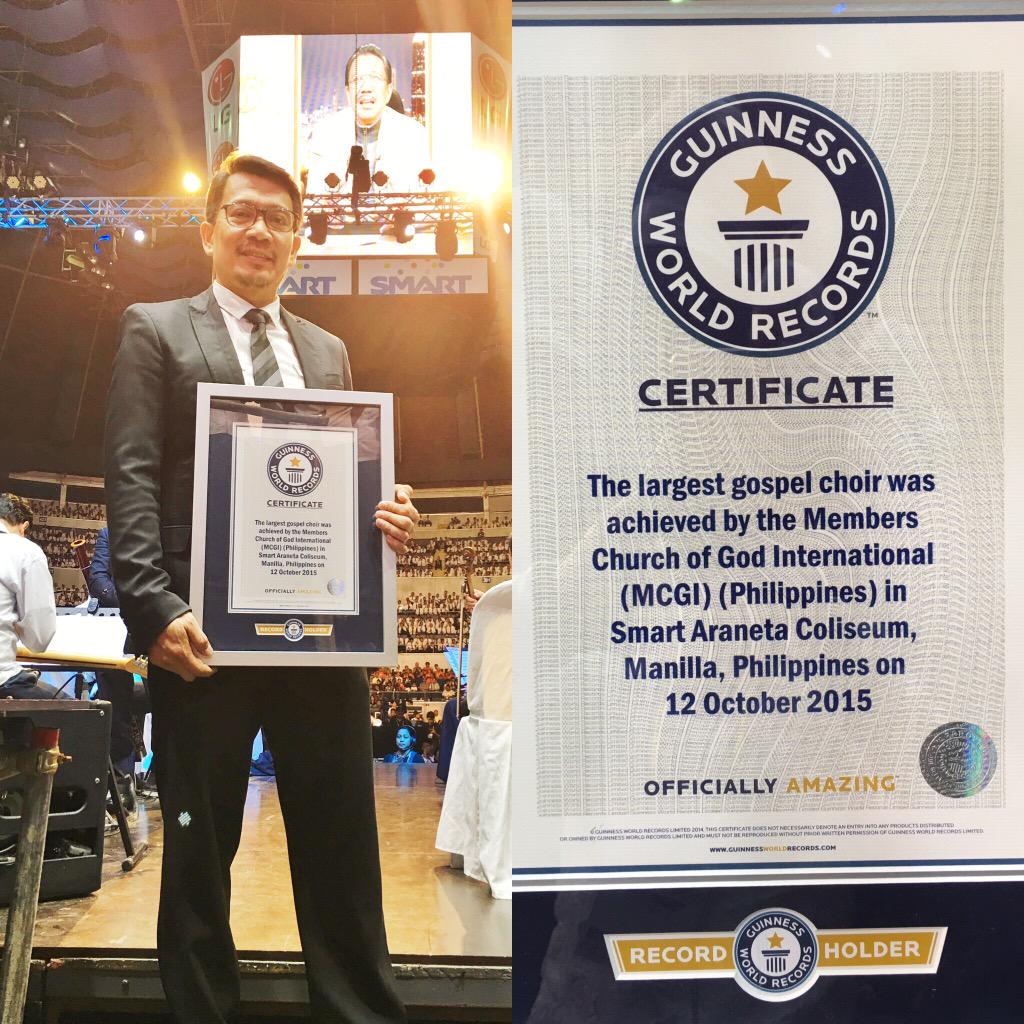 The group, now officially labeled as the world's largest choir, consisted originally of 15,000 singers but the venue is not capable of accomodating all, thus only 11K plus were able to get in, along with the differently abled citizens who were invited to be the honored guests of the event.
The longest running religious program on TV, Ang Dating Daan, made the celebration even more blessed by giving out gifts to the differently abled individuals and organizations invited to the venue. A total of 12 organizations came and celebrated with the organizers.
The official record number of the ADD Chorale approved by Guinness was 8,688 which broke the original record by almost a hundred percent of the total number.
The official Guinness video shows the total number and the excellent performance of the members. Take a moment to watch the video and enjoy the great spiritual upliftment it brings.
Just In. MCGI Still holds the title.
The title Largest Gospel Choir still belongs to MCGI's ADD Chorale despite efforts from the Iglesia ni Cristo Chorale to capture the coveted record during its Pamamahayag event held in their own Philippine Arena. Around 22 thousand singers were supposed to topple the feat. Messages of congratulations populated social media right after the event was held and INC supporters even posted their remarks on GWR website.
In a twitter conversation, however, Guinness reiterated that the Members of the Church of God International still holds the record.
The spokesperson of Eagle News referred to the whole series of event as a "miscommunication" in their part, since the social media people already sent out the message of bagging the title, referring to a Nigeria-based choir as the title holder from whom they are trying to snatch the title, even as the  GWR site clearly shows the Officially Amazing feat is still enjoyed by the ADD Chorale.